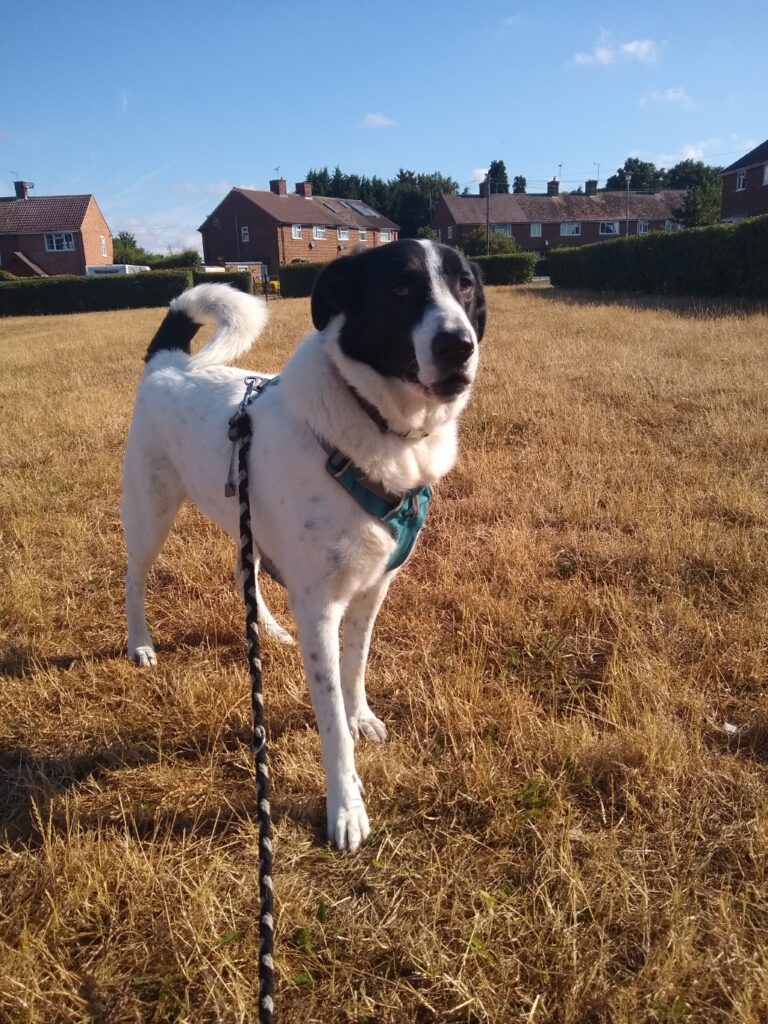 Rufus came to me after a friend on Facebook put out an emergency appeal for a foster place for a very friendly dog she knew of, which was scheduled to be put to sleep by his vet that afternoon for 'not getting on with other dogs in his house'.
I'd just lost my beautiful Escher a week and a half before, suddenly and unexpectedly – how could I let a friendly healthy dog be put down while I had an empty space here? I am still grieving the loss of my own boy, but I said I would take him if nowhere else could be found, and he was brough to me at 8 pm that evening, on the 20th July where I learned a little more about him:
Rufus was originally brought to the UK from Bulgaria at about a year old by an organisation bringing street dogs to the UK for rehoming. He was adopted by a couple, but things in the home were not happy, and he was taken back into rescue due to 'domestic violence'.
He was then adopted by his last home where he lived for 4 years, in a very busy family home with two much smaller terrier dogs and young children.
He may be crossed with something, but he is very much a collie by looks and a collie by nature, and collies can be particularly sensitive, and tend to thrive better in a calmer environment.
He is tall for a collie, perhaps more labrador height, but this is generally an advantage – it means less bending to groom him!
He had been struggling a lot with the noise and the bustle of his busy environment, and it would seem his pleas for help were mistaken for him being 'protective' and guarding, and he was believed to be the aggressor in scuffles and skirmishes with the other dogs.
Dog communication can be incredibly subtle, and easy to mistake or misinterpret. He may well have been the one making most noise, but this gorgeous submissive boy would have to be pushed a very long way before he fought back, of that I am very sure.
Ru has been with me just over a week and we have mostly spent that time decompressing. I had loads of ideas what we would be doing, but leting him take he lead, he mostly has been enjoying learning how to feel safe again. That's great. I really hope his new owners will want to spend some time learning how we have been working toward this.
He was incredibly nervous and very reactive towards my husband or anyone we saw out and about at first, but he is responding incredibly well to "turn about, big smiles, happy voices, let's go", to the point others can pass him quite easily on the street, I can walk him through the village and even into a pub.
Small yappy dogs and dogs looking at him still frighten him, but he can see quiet dogs and pass them with reasonable space without fussing.
It will take time for him to fully regain trust, but he is not showing any signs of aggression whatsoever, just fear – he simply doesn't want anyone to hurt him.. who can blame him for that?
I have found several scabs and bitemarks on his legs, thighs and ears. He absolutely loves being brushed and groomed. He tends to lie in the middle of my small gally kitchen and does not mover or fret if i step over him. If things fall or scare him, he might yelp with fear but he shows no inclination to nip or growl / show teeth. He looks with interest if I squeak a ball or throw a ball, but will not engage… he shows no signs at all of any resource guarding, and I really would have expected some – he dances with glee if you reach for a lead, and if you go to fuss him, he comes right in for more. He even reluctantly put up with a bucket bath. It wa clear he didn't like it, but he accepted.
Ru truly is a very, very lovely boy who will really enrich the lives of a calm warm and loving family.
I strongly suspect that Ru was mistaken for the attacker when in fact he was the victim. He is a large collie and could easily have really hurt a smaller dog had he wanted to, but the bites he has on him show that his aggressor meant business.
Ru does not seem to have any food or skin allergies, he is overweight but has not been so foodie since he came here, so is beginning to look a little more shapely. He was fed kibble in his previous home. He mostly seems to prefer cooked meat here.
His teeth are very clean, his toenails are tidy.
He walks incredibly nicely on lead, I think by his gait he may have been taught to do so the old fashioned choke chain way with some force, and he coughs if he does happen to lean into his collar so I have him in a body comfort harness, my own dog's – which he can take with him.You really would not know you were holding him he is so light, but he does like to stop and sniff a lot, so you'll need to allow time for that on walks.
He will need to be kept on lead until he has proved his reliability in recall in safe spaces, and his owners will need to accept that his may or may not ever happen, but he is very happy just walking on a long lead beside you. I have notices that he is very quick to spot a gap in a fence or wall, so garden security will be important.
Visiting children with good manners will not be a problem for him once he is settled, and I am sure he can learn to get on with cats and other well mannered dogs too, but that may take some time.
He can be reactive to other dogs, especially if already in a bit of an excited or anxious state, and especially still if the dog that he is worried about continues to approach. Good positive reinforcement training can be very effective in resolving this issue, but it does take considerable patience, calm and understanding.
Ru is to be rehomed via ARC rather than directly as they have the legal paperwork and resources to ensure that he does not end up being home and homes again. He deserves a nice calm and happy ever after life now, he has truly been through enough.
Contact info@paws4me.co.uk or ARC directly to arrange a meeting Animal Rescue Charity (Registered Charity No 1007182) | Facebook